When I initially started growing my beard, I used to cleanse it with a face wash. But eventually, after researching about using face wash on beards, I was astonished. It isn't authentic to exert it in the face.
The face wash contains harsh chemicals that strip natural oils away from facial hair that leads beard to be dry and brittle.
Without further ado, let's talk it in detail!
Why can't I use face wash on my beard?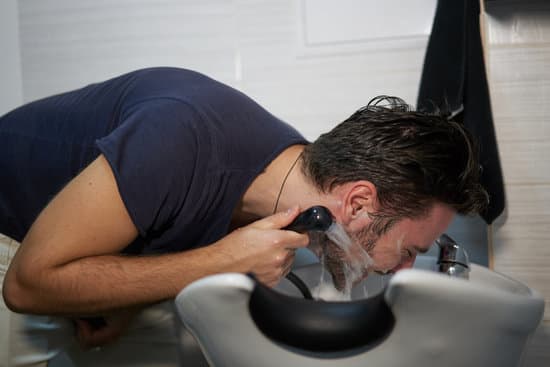 I suggest you don't use face wash on your beards because it is not designed for facial hair but for the skin underneath it. Using it can dry out your beard, cause itchiness & irritation and beard dandruff.
Over here are the reasons why you can't resort to it in your beard!
1. It Contains harsh chemicals
Face wash contains different chemicals like Parabens, Sodium Lauryl sulphate, Lead, Triclosan and other ingredients. These chemicals aren't only harmful to your beard but also for your skin.
I recommend that even if you are buying it for your face, don't buy those that contain these ingredients.
2. Dry Beard
For your beard to remain healthy, it needs to be nurtured with sebum oil produced by the sebaceous gland. But while using a face wash, it completely strips away these oils. As a result, your beard remains dry and brittle.
3. Beard Dandruff
While using a face wash containing strong chemicals, it will not only strip natural oils from your beard but also from your skin, resulting in it to remain dry. And a dry beard, as a result, causes beard dandruff.
4. Itchiness
When your skin becomes dry, you will definitely suffer from itchiness. However, how long it will itch depends upon its severity.
Itchiness might last from a few hours to a week.
Note: If your problem is severe, do consult the physician
5. Reduce Beard Growth
Beard growth is only possible if hair follicles are nurtured. For nurturing it, you can apply different beard products like beard oil and balm.
Meanwhile, the face wash doesn't nurture it. Instead of nurturing it, the ingredients blended into face wash damages hair follicles. As a result, it reduces beard growth.
What should I use instead of face wash?
Instead of using a face wash, you can use beard wash or shampoos. If you are interested in top beard washes, check it out here!
Not any strong chemicals are blended into it; moreover, they are primarily designed for hair. Thus, it will keep your hair moisturized and healthy.
You can read our previous article Is Beard wash worth it to know more about it in detail.
Why use Beard wash – Benefits of it?
The significant benefit of it is that it won't strip natural oil from your face. Thus, even after washing, your beard remains shiny and healthy.
It removes dead skin cells from your hair, resulting it to prevent itchiness and red skin.
It nourishes beard follicles and keeps it hydrated.
It also stimulates the hair follicle and increases the growth of it.
It softens your beard thus will make it easier in styling it.
Common Mistakes While washing your beard
1. You won't wash your hands
Your hand might contain different germs beforehand. And while washing your face with it can cause breakouts and even bacterial infections.
Thus, washing your hand is a must before washing your face.
2. You won't moist your face
Before applying face or beard wash, you first need to moist it with water or hot bath towel.
Doing so helps to produce a tremendous amount of foam that works effectively either to remove excess oil or to cleanse your beard.
3. You will rigorously apply it
No matter what – you will apply it rigorously in your face. You will use it directly to your eyes. But that is not the right way to apply it.
You need to apply it gently in a circular motion in your face. Additionally, While washing your beard, gently wash it rather than rubbing it so hard.
4. You will use hot water
Another mistake is that you will wash your beard with hot or lukewarm water. That's totally wrong!
Because washing it with hot water can
Open up your pores.
Increases ageing &
Makes your skin dry
I recommend you to wash it with cold water. It locks in the moisture and ultimately closes the pores.
5. You will use any product not knowing your skin tone
While using any product in your face, you first need to determine your skin tone.
Is it oily or dry or acne-prone skin?
And after knowing it, you need to select products depending upon its ingredients.
6. You will use body towel in your face
You can't use body towel in your face because they are harsh and can damage your smooth facial skin.
Rather than using a harsh towel, I recommend you to use a cotton towel. While using a cotton towel,  you just need dap it gently into your face.
Some FAQs
Is Face wash bad for beards?
It depends upon the ingredients of the face wash. If it contains strong chemicals like Lead, BHT, Formaldehyde, and Phthalates, it is definitely bad.
However, if it contains mild ingredients, it isn't considered to be bad.
How to wash skin under beards?
Firstly, you will need moist your skin.
Now, Gently apply face wash in your skin in a circular motion.
Don't rub it too hard. It might cause irritation
Ultimately, wash it with cold water.
Is washing your beard with only water is good?
Yes, Washing your beard with only water is also good. However, it won't soften your beard and removes excess oil from your beard.
It is suitable only when you don't have alternatives to face wash.
Conclusion
I recommend you not to use face wash if possible on your beard. However, if you are thinking to use it in your beard, choose the face wash that contains mild ingredients that won't impact profoundly on your beard.