How To Get Your Hair To Grow Faster Naturally- Best Hair Growth Tips
No wonder whether its men or women, everybody wants to grow their hair longer, brighter and shinier. But it won't happen to most of the people. Because they won't care about what is right and what is wrong. Nevertheless, they want to grow their hair long overnight. For this to happen, they use different chemicals on their hair. And in the end, the result they will get is devastating. They might even damage their hair.
You need to possess a lot of patience. You have to follow proper tips regarding how to get your hair to grow faster. Then, only after a couple of months, you will visualize satisfactory result in your hair. Otherwise, it might be only a dream.
So, before discussing how to make hair grow faster, let's see the challenging part of growing long hair!
1. Dryness
The most frustrating problem while growing hair is non-other than dryness. Even if you comb it, wash it; it doesn't turn silky. And it might surely irritate you in the phase of growing hair.
The main reason behind dryness are
Over washing of hair
Using straighter with high heat
Exposing your hair to pollution
Using cheap dyes.
While your scalp can't produce enough amount of oil to moisturize your hair then dryness occurs. And you must have to take better treatment instantly because it might lead to other problem related to hair.
2. Dandruff
All men and women, it doesn't matter short hair or long hair, everybody face this phase. That is having dandruff in their head. It is one of the burning problems and there are many reasons behind having dandruff in their head. And one of the major reasons behind having dandruff is dryness.
Dryness is the loophole that helps to enter any other problem related to hair.
There is a myth that using hair oil removes dandruff which is the biggest myth of this century. Don't use oil if you are having dandruff. It might increase it.
The one home remedy to remove dandruff is to use Apple Cider Vinegar.
3. Split End
Split ends decrease the growth rate of your hair. Because at the tip, hair gets split and begins to increase at both ends. For this to resolve, you need to cut tip very often.
It predominantly occurs if you are growing your hair long. And the solitary way to get rid of it is to cut it.
4. Hair Fall
The alert phase when your hair falls. Most men needed to be alert. Taking no precautions and medications might lead to baldness.
Even for the female, you need to examine why your hair is falling? The main reason for hair fall is due to lack of some vitamins.
Even dandruff causes hair fall.
5. Frizzy Hair
The frizzy hair makes you look super abnormal. And the main reason for having frizzy hair is due to the lack of moisture in the hair. It happens if you use cheap dyes and chemical treatments. Thus, you need to avoid using these cheap chemicals.
The home remedy to prevent frizzy hair is to use conditioner immediately after using shampoo. It moisturizes your hair and prevents frizziness.
How To Get Your Hair To Grow Faster Naturally
Normally, hair grows half an inch per month. And it is not impossible to increase in its growth rate. Let's check how you can boost its growth.
1. Aloe Vera
Using an Aloe vera is much beneficial to your hair. Using it consistently will surely help in growth as well as improve the condition of your hair. It also helps in repairing your damaged hair.
You can use fresh aloe vera leaves. In case if you don't have fresh leaves, you can also use Aloe Vera Gel.
Using it just before going to bed helps to moisturize your hair and prevent dryness. The aloe vera gel improves the health of hair follicles and helps to boost the hair growth.
Aloe Vera Hair Pack
You can make aloe vera hair pack at your home and apply it gently to your hair to get the most beautiful, shiny and cherished hair. For this hair pack to make, you will need
1 tsp of Coconut oil
2 tsp of Castor oil
1 Vitamin E capsule &
Aloe Vera Gel
Steps to use:
Mix 1 tsp of coconut oil with 2 tsp of castor oil plus
Boil it for few minutes
Take major precaution while boiling
Add 1 vitamin E capsule to it
Hair pack is ready
Gently massage your hair with this hair pack
Make it dry for about 1 hour
Wash your hair with clean water
2. Vitamin E
One of the most important vitamin to help boost your hair growth is Vitamin E. It has got an antioxidant property which repairs damaged hair follicles resulting in growth of healthy and shiny hair.
Vitamin E, in addition, helps to increase the blood circulation which in turns helps in growth of your hair.
You can use Vitamin E enriched oil as well as vitamin E capsules.
Steps to use:
Take a few drops of Vitamin E oil or Vitamin E capsule
Massage it entirely onto your head
Comb it
let it put for about 15 minutes
Wash it with clean water.
3. Coconut Oil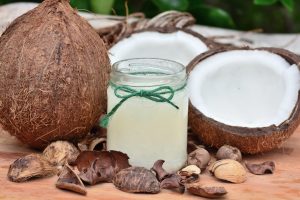 Coconut oil also helps in growth of your hair. Coconut oil contains more amount of fatty acid. These acid moisturizes your hair, nourishes your scalp and removes sebum produced by your scalp. Even the damaged hair gets repaired by these fatty acids.
Steps to use coconut oil
Take a scoop of coconut oil
Heat it for few minutes
Don't heat it in the microwave because it will destroy the important properties of oil
Pat oil in your hair for few minutes
let it sit in your hair for about 15 minutes
Rinse the oil with lukewarm water.
4. Mustard Oil
Another oil you can use in your hair for boosting its growth is mustard oil. Generally, mustard oil is rich in protein and omega 3 fatty acid. These are the important ingredients necessary to help in the growth of your hair.
It also increases in blood circulation and is the important factor behind the growth of your hair. The antibacterial and antifungal property of this oil prevents loss of your hair.
Steps to use Mustard oil.
Take a few drops of pure mustard oil
Rub it in your hand
Now massage it entirely onto your head
After 15 minutes, clean it with clean water.
5. Dandruff-Free Shampoo
You must use dandruff-free shampoo if you want in consistent growth of your hair. Dandruff makes your hair dull and dry. The amount of moisturizer needed in your hair might get relinquished due to dandruff. Thus, you must take care of dandruff before it appears frequently devastating onto your head.
If you are suffering from severe dandruff, you must consult the better physician. Because a normal dandruff-free shampoo might not work at that time.
6. Wash your hair twice a week
Washing hair daily won't make it better and shinier. But it gradually decreases the moisturizing particles needed to moisturize your hair. So, don't believe this myth.
You need to wash your hair twice a week. It removes unwanted oil and sebum from your scalp but not decrease the moisturizing particles from your head. But before washing your head you need to
Comb your hair with the help of a brush
Don't wash your hair with dry water
Wash your hair in the backward direction from ear to its tip. It increases blood circulation
7. Natural Hair Mask for growth
This hair mask is one of the natural ways to grow hair at a faster pace. For this hair mask to make, you will need
Coconut oil
1 piece of ginger and
1 tsp of castor oil
Steps
Boil Coconut oil until it melts
Take major precaution while boiling it
Grind a piece of ginger
Mix boiled coconut oil with ginger
Add 1 tsp castor oil to it
Pat is gently all over your head
Wash it after 30 minutes
8. Hair Mask for nourishment
Nourishing your hair makes it look healthy and shiny. And healthy hair always grows rapidly. If you want a hair mask for nourishment, you will need
2 tsp of Burdock oil
2 tsp of olive oil
10 drops of vitamin A
10 drops of vitamin E
Heat up and Mix it
Apply it all of your hair for 1 hour
Rinse it with clean water
Verdict
Making your hair healthier and shinier totally depends on you. Taking care of your hair properly makes it healthy and shiny with no doubt.
You being lazy to comb your hair, wash our hair makes it dry, dull and frizzy.
With no doubt, using cheap treatments and dyes makes it even worst.
Even if you straighten your hair at high temperature and straighten every day makes a bad impression to your hair.
Be wise and put a little bit effort to make your hair look good and healthy.
You may also like these reviews:
If you have any queries regarding how to get your hair to grow faster, drop your comment below!